Digital certificates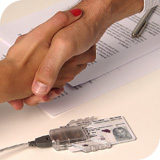 Digital certificates are installed by the Belgian Government on electronic chip cards being eID, KidsID or foreigner cards. Certificates enable the holder of an electronic card to be remotely authenticated or to create a legal electronic signature.

Certificates are issued based on a specific information technology infrastructure, called a PKI (Public Key Infrastructure). Within this infrastructure operational entities (CA's or Certification Authorities) are set up to issue the personalized certificates for the electronic chip cards.

The origin of a personalized certificate is assured by the signature of the issuing CA. The authenticity of every CA is on its turn assured by the signature of the Belgium root CA which issues the CA certificates. This creates an authenticity or certification chain between the Belgium Root CA from the Belgian Government and the personalized certificates placed on the electronic chip cards.